T Starter
T Starter is a tool for T2002 to handle level packs. It completely automates starting and even downloading of T2002 levelpacks and includes advanced security features to keep your T2002 directory tidy and clean even if your computer crashs while you are playing T2002.
If you are running a pre Vista Windows, you will either have to download .Net 2 or the T Starter including MiniMono listed below.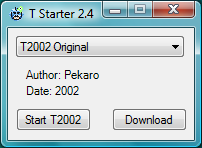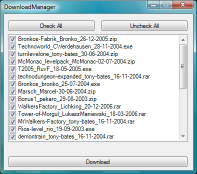 T Starter 2.8
T Starter 2.8 including MiniMono
Instructions:
1: First install T2002 and the T2002-level-editor.

T2002 download
T2002-Editor download at pekaro.de (called T2002E Update)

2: Put everything included in your T Starter archive in the T2002-directory.

3a: You are running Windows Vista: If your T2002-directory does not reside in your user directory right click T Starter.exe. In the compatibility tab activate the administrative rights option. Then start T Starter.exe.

3b: You want to use .Net 2: Download .Net 2 and install it. Then start T Starter.exe.

3c: You want to use MiniMono: Start T Starter.bat. If you can not find T Starter.bat you did not download the big T Starter package including MiniMono. Please catch up on that and go back to point 2.

4: When the T Starter is started the first time, it creates a "Bonus"-directory. You can put your level-packs in there or you can instruct the T Starter to download them. T Starter uses the Levelbase to do that.
Please do not rename your level-packs, or the T Starter will not be able to recognize which level-packs you already have.